"Across the world people are interested in getting into shape, in bringing about a culture of collaboration at your workplace and I think the opportunity to do this in an easy manner, in a manner where you can do all of this without taking a huge amount of people's time is very effective and very appealing."
Pirojsha Godrej
MD & CEO, Godrej Properties
"We were looking for an initiative which would be fun, quick and collaborative for our leadership team. We also had a purpose that something like that should be inclusive for our managers and it should leave a lasting impression, believe me I think this is one initiative which served all the purposes."
H.K. Gandhi
Group HR Director, InterGlobe Enterprises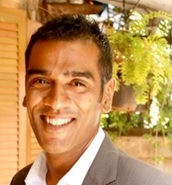 Ravi Krishnan
Co-founder and CEO: Stepathlon
2014 has been a pathbreaking year for Stepathlon. Since we started, three years ago, we have more than tripled the number of Stepathletes who have participated in this life changing movement. It makes me proud to hear about the achievements that our Stepathletes have shared. I feel humbled when I read about the real impact on lives that our movement has had, and is having – whether it be someone who has been able to control their diabetes, lose weight, or simply spend more quality time with their family.
'Move the nation, lead the world' is not just a slogan for us, it is our philosophy and our mission. I truly believe, that if every one of us makes a commitment to becoming healthier and happier versions of ourselves, we can achieve the unimaginable.
Stepathlon 2015 is going to be exactly about that. I hope you are ready to join the 'Movement for Movement'.