CSR
Stepathlon is dedicated to promoting health, wellness and fitness
through our CSR initiatives.
Our CSR focus this year has been on heart disease.
We contributed to Dr Devi Shetty's Narayana Hrudayalaya Trust in Bangalore to provide financial support to underprivileged cardiac patients. In Mumbai, we donated funds towards building a new paediatric cardiac unit at the Bai Jerbai Wadia Hospital for Children, while in Hyderabad we supported Apollo Hospital's Save A Child's Heart initiative by subsidising surgeries for children suffering from congenital heart diseases.
In Singapore, we contributed to the Heart2Heart Fund, run by the National Heart Centre Singapore, that undertakes important research and development into the prevention and treatment of cardiovascular diseases.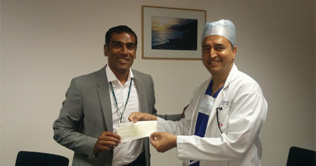 Ravi Krishnan with Dr Devi Shetty, Managing Trustee, Narayana Hrudayalaya Charitable Trust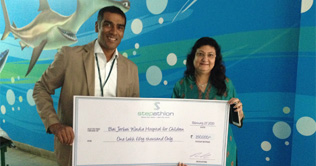 Ravi Krishnan with Dr Minnie Bodhanwala, CEO, Wadia Hospitals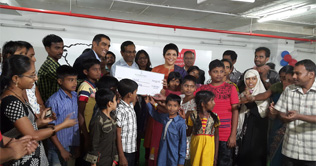 Ravi Krishnan with Sangita Reddy, Joint Managing Director, Apollo Hospitals Group and the young patients from SACHi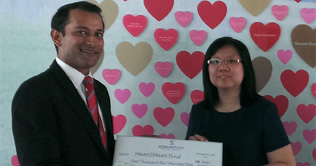 Kunal Bhargava, GM South East Asia with Woo Lin May, Corporate Development, National Heart Centre Singapore
On the occasion of World Diabetes Day, we made donations to three NGO's in recognition of their
exceptional work against this lifestyle disease – UDAAN, the Diabetes Foundation of India and the
Australian Diabetes Council.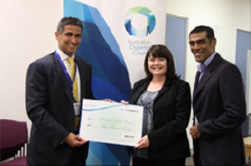 Stepathlon Co-founders, Shane Bilsborough (L) and Ravi Krishnan (R) with ADC Head of Member Relations Bronwyn Muir (Centre)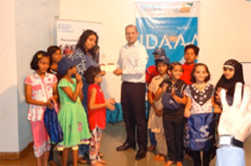 Stepathlon General Manager, Akshay Beerala (R) with Dr. Archana Sarda (L), Founder, UDAAN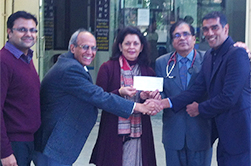 Stepathlon Co-founder & CEO, Ravi Krishnan (R) with the members of the Governing Body of the Diabetes Foundation of India

Stepathlon also joined forces with leading global rights-based development agency, Oxfam. 25% from the proceeds of each Stepack sold in December, will help ensure that children have access to the basic essential services of health and education.

Stepathlon partnered with the Asian Heart Institute to conduct the IPADH Study (The Indian Physical Activity Diabetes and Heart Disease Study). The study concluded that Indians working in the corporate sector both in India and globally, who take more than 10,000 steps per day can reduce their risks of diabetes, heart disease and obesity.


Stepathlon partnered with NDTV's Marks for Sports, a campaign aimed to change India's perception on fitness and inspire its population to become a healthier nation.